Reviews
Just received our beautiful 10,6" Chef's knife, and I have to say it was worth the wait! Thanks guys for the work of art and amazing new kitchen tool.
Blake Suggs / USA
No job too small for these wonderful tools. These tools are such a pleasure to use I always look forward to working on my next project with them. Thanks for such a wonderful tool set!
Devin Ward / USA
Articles
Autine axes on top!
Our Hunters and Bushman axes have done great job performing for Australia's largest 4x4 magazine "4x4 Adventures" review of the best hand-forged ...
26/05/2017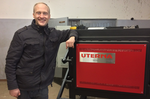 Follow us on Instagram