Reviews
The Chef's knife I bought from Autine...is AMAZING in kitchen... I love it!! Thank You and I appreciate your craftmaship...
Teppo Virkki / Finland
Simply the best axe made... I have had mine for over two years now and I am looking to get a Large Forest Axe. Autine is great to deal with and the axes function on a level unmatched by any other!
Michael Newbry / USA
Articles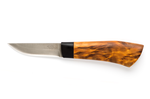 Hello, Northlander!
Scandinavians are well known for their ascetic yet stylish and extremely functional designs. Recent visit to Helsinki knife show on January inspi...
09/02/2017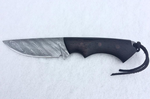 Sharp and even sharper!
Good news for those who prefer Damascus steel cutting abilities - Kurbads now available also in Damascus version! The secret of Damascus steel...
12/01/2017
Follow us on Instagram