Reviews
Simply the best axe made... I have had mine for over two years now and I am looking to get a Large Forest Axe. Autine is great to deal with and the axes function on a level unmatched by any other!
Michael Newbry / USA
I received my Forest Axe from Autine and couldn't be happier. Awesome axe - I want to order another one!
Craig Davis / USA
Articles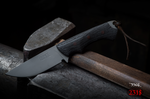 Black Friday Sale!
Have been looking for the perfect knife that will suit your needs while fishing, hunting, picking up mushrooms and also peeling potatoes in one p...
25/11/2016

BLACK BLACK BLACK!
Black Friday is good, but Black Weekend is even better! Check out our knives section this weekend to find real nice offer for one of them! We'll ...
24/11/2016
Follow us on Instagram