Reviews
Today I got my Hunters axe, guys! At first sight I'm really impressed and I'm very happy with the result of your work! Thank you very much again!
Peter Campfire / Germany
The Chef's knife I bought from Autine...is AMAZING in kitchen... I love it!! Thank You and I appreciate your craftmaship...
Teppo Virkki / Finland
Articles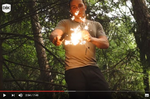 Leuku: A Knife That Does It All
If looking for a knife that would comfort your trips into the wild in every possible aspect, even to stand in for an axe sometimes, Autine's Leuk...
26/07/2017
Autine axes on top!
Our Hunters and Bushman axes have done great job performing for Australia's largest 4x4 magazine "4x4 Adventures" review of the best hand-forged ...
26/05/2017
Follow us on Instagram